Updated on March 28, 2023
By visiting or using the Appizy website located at www.appizy.com and converter.appizy.com (the "Site") (collectively, the "Service"). you are agreeing to be bound by the following terms and conditions ("Terms of use").
Appizy ("we", "us", or "our") reserves the right to update and change the Terms of Service from time to time at our discretion without notice. Any new features that augment or enhance the current Service, including the release of new tools and resources, shall be subject to the Terms of Service. Continued use of the Service after any such changes shall constitute your consent to such changes.
This Service is operated by:
Nicolas Hefti
120 rue des Romains
L-8041 Luxembourg
LUXEMBOURG
Terms of use
Responsibility for web application accuracy
Appizy provides a conversion service of a spreadsheet into Web Application written in HMLT, JavaScript, and CSS. The generated Web Application code is provided "as is", without warranty of any kind, including but not limited to graphical element or calculations.
You must check the output accuracy of your Web Application. Although we are pleased to help you fixing calculation bugs and divergence, we cannot be held responsible for calculation errors in the generated application.
The conversion Service is constantly evolving. In case you write additional code to interact with the Web Application be sure to test the compatibility of your code with every newly generated Web Application. Appizy cannot be held responsible in case the generated code is not anymore compatible with the additional software you wrote.
Responsibility for data
We do not make backups of your files for privacy reasons. Always keep a copy. While we try to ensure that the service is error-free, we cannot guarantee that your files will not be damaged, deleted, or lost.
You acknowledge that you have a copy of all files and Appizy will not be responsible for any failure caused by files, sent to Appizy.
Appizy cannot be held responsible for any data loss or incompatibility while using the Web Application. This is also valid if you use Appizy App Embed plugin provided for WordPress or if you use the ability to save data locally as JSON.
Web application protection
The Web Application generated by Appizy is by default a client-side application. It runs in the visitor browser. Therefore, all the formulas are downloaded on the client browser. Even though they are not directly seen by the visitor, this could be reverse-engineered by analyzing the source code of the application.
If your original spreadsheet contains a business-critical or secret formula, we advise you to secure your application behind authentication on your website. You can also use applications with server-side calculations if you want to hide the formula.
Vendor libraries
The web application relies on JavaScript libraries delivered by third-party. These are called Content Delivery Network or CDN.
These third-party providers are chosen for their reliability. Nevertheless, Appizy cannot be held responsible in case one of this third part CDN would come to stop or change.
Copyright and Content Ownership
We claim no intellectual property rights over the material you provide to the Service. Your files uploaded remain yours.
Do not use our services and intellectual property for any form of infringement. You are the only responsible for the data (e.g. files) which it sends to the Appizy service. Appizy does not monitor customer content.
Subscription management
We use the payment gateway called Fastspring to handle payment and subscription. Fastspring acts as an official reseller of Appizy subscriptions.
Trial and paid plans
When you create an account on Appizy site you automatically get a 30 days trial period to test the conversion of your file. You can check the quality of the conversion, but you will not be able to download the code generated. To unlock the download functionality you need to subscribe to a paid plan.
Appizy offers 3 different plans on a monthly or yearly billing cycle. Every subscription gives access to the ability to download the generated code of the Web Application.
Appizy, in its sole discretion, has the right to add, update, or remove some of the conversion features linked to a specific plan.
Cancellation
Subscription cancellation should be done using Fastspring dashboard. To access it click on the blue link "Manage Your Orders" in the checkout email you got from Fastspring and follow the steps indicated by Fastspring. In case you have any questions, do not hesitate to contact us.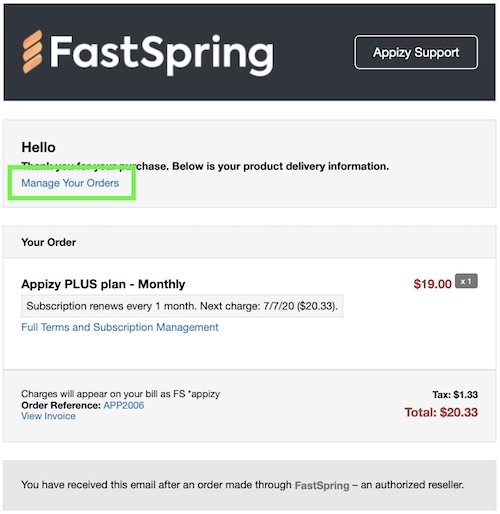 Once canceled in Fastspring your subscription will be automatically deactivated in your Appizy account at the end of the next billing cycle.
Account
We use Auth0 as an authentication provider. This ensures maximal security around password protection. Every sign-up activity is kept for a maximum of 2 days.
Termination
Appizy, in its sole discretion, has the right to suspend or terminate your account and refuse any current or future use of the Service, for any reason at any time. Such termination of the Service will result in the deactivation or deletion of your Account or your access to your Account, and the forfeiture and relinquishment of all Content in your Account. Appizy reserves the right to refuse service to anyone for any reason at any time.
Changes to this policy
Any changes we make to our privacy policy in the future will be posted on this page and, about substantive changes, will be notified to you by e-mail.
---
Privacy policy
Spreadsheet privacy
All files uploaded are automatically deleted from our server on a daily basis. We do not read or collect the data from your uploaded files.
For debugging purposes, we might ask you to send us your spreadsheet per email. We only use your spreadsheet to help you. We keep the email exchange for a maximum of 3 years to give us a better understanding of the product issues and choose the next feature developed.
Personal data collected
We collect the minimum amount of necessary data only. By visiting our website your IP address will be logged along with the dates and times of access.
We do not read or collect the data from your uploaded files. We collect information about the usage of the converter. This allows us to improve the quality of the service by knowing how you use the converter and which problem you might encounter.
Account creation
The access to Appizy is managed using Auth0 Services. It provides compliances with the security standard in terms of identity management.
Google social connection
You can identify on Appizy site using Google OAuth. It only requires access to the basic information of your Google profile to populate the information of your account. Your email, name, and surname can be used in case we need to contact you (for example support, changes in terms of use or privacy policy)
Appizy use of information received from Google APIs will adhere to the Google API Services User Data Policy, including the Limited Use requirements.
Subscription
We use the payment gateway called Fastspring to handle payments. We do not receive credit card information ourselves. We can sign into the payment gateway to view your payment history and manage your subscription. Before providing any personal data to FastSpring, please make sure that you have read their terms of use and privacy policy.
Deleting Your Account
If you have made purchases, Fastspring will retain information about your purchases. You can still delete your account from our system, but this is handled differently to preserve some purchase information. If you delete your account, we remove your account information, for example, your IP address, email, name, business, and device information. Purchase history information is retained.
Changes to this policy
Any changes we make to our privacy policy in the future will be posted on this page. Substantive changes will be notified to you by e-mail.